Company profile
About us
Good day,
Welcome to the H.O.T. Sports + Toys site.
H.O.T. is short for Handels-Onderneming Telgenkamp.

We are an importer and wholesaler in sport articles, recreation articles, games and toys. Because we are an importer / wholesaler, we only sell to retailers and not to individual customers. Therefore, you can not order from our website as an individual.
If you find something you would like to buy, you can search for a shop that sells it by using your postal code and order the product there. If you can not find a shop in the list, you can send an email to: verkoop@hotsports.nl. Be sure to mention your postal code and which product you would like to order in your email.

Because we only sell to retailers, there are many products that do not have a price. Every shop is free to decide its own price.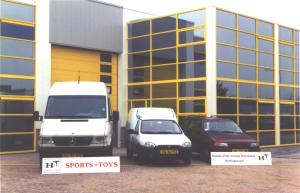 Contact
We are located on Celsiusstraat 18B, 1704 RW in Heerhugowaard, the Netherlands.
HOT-line: 072-5743193
HOT- fax: 072-5744479
You are free to visit our showroom and warehouse on working days between 09:00 and 17:30. Please make an appointment if you want to visit us outside those hours.
Click here for more information on how to visit us.

You can also contact us by sending an email to: info@hotsports.nl. You can also fill in our contact form.

Our information:
Handels-Onderneming Telgenkamp / HOT Sports + Toys
Celsiusstraat 18 B
1704 RW Heerhugowaard.
HOT-line: 072-5743193
HOT- fax: 072-5744479
KvK nr.: 37058919
BTW nr.: NL800877019B01